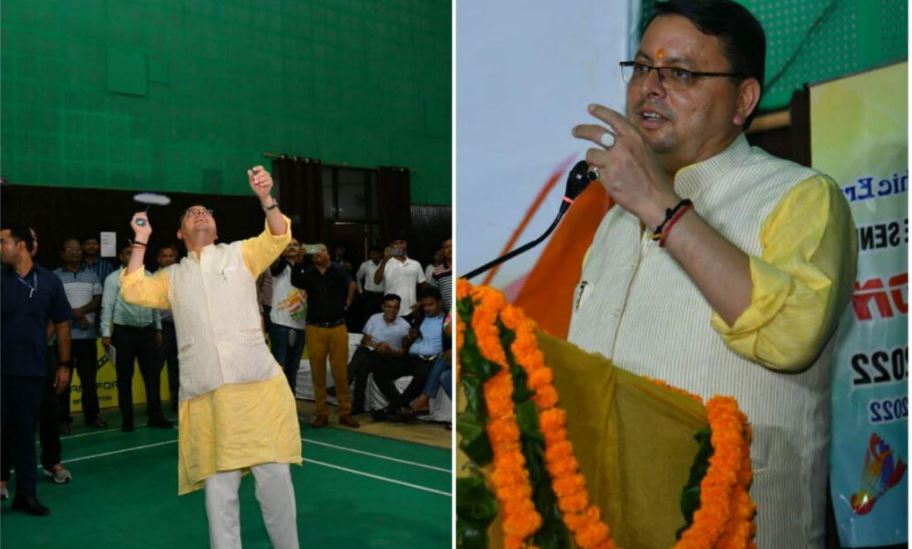 On Thursday, Chief Minister Pushkar Singh Dhami inaugurated the 'Uttarakhand State Senior Badminton Competition' organized by the Uttaranchal State Badminton Association at the Multipurpose Krida Bhawan, Parade Ground, Dehradun. This competition will run till 21st August 2022. On this occasion, the Chief Minister himself boosted the morale of the badminton players.
Chief Minister Pushkar Singh Dhami wished all the players present for their future. He said that the children are doing commendable performance in various disciplines of sports. The players of the state are illuminating the name of the state and the country on the world stage today. Our players have achieved a good position on the basis of their determination, will power and hard work. Players fulfill their dreams on the basis of their struggle and hard work. With the success of the player, the feelings of the people of the region, the people of the state and the country are attached, thousands of people are blessed with him, other players are also encouraged by the success of one player.
Chief Minister Pushkar Singh Dhami said that energy is transmitted in human beings with enthusiasm and zeal, determination and strong will power take us towards our success. He said that today India is moving ahead as a leader in every field. New India is being built. We have entered the nectar period. In this nectar period, we all understand our responsibilities and contribute towards the nation, so that India and the state move ahead in every field. To encourage sportspersons, a new sports policy has been formulated in the state. According to the convenience of the players and keeping in mind their interests, further improvements will be made in the sports policy from time to time. Many provisions have been made in the new sports policy, so that our youth can achieve new heights in the field of sports.
During this, USBA President Alaknanda Ashok, Secretary BS Mankoti, DK Sen, Harish Joshi, Rakesh Doval, Chetan Gurung were present.