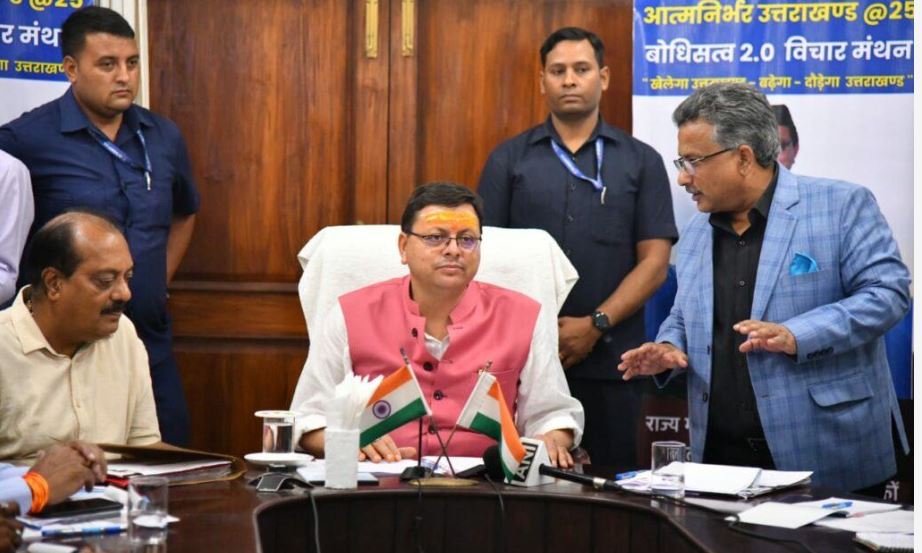 On Friday, Chief Minister Pushkar Singh Dhami participated in the self-reliant Uttarakhand @ 25 Bodhisattva brainstorming program organized at the Chief Minister's Camp Office. Apart from interacting with the players and people associated with the game, he also listened to their views and honored them. The Chief Minister said that it is our endeavor to prepare a model of development based on public dialogue in the state. Keeping this in mind, along with public suggestions, suggestions received in the Bodhisattva thought series have also been included in preparing the outline of the budget.
The Chief Minister said that the State should make its own unique identity in sports, sports policy has been prepared so that the players get better opportunities. It is our endeavor that the road map of sports should also be prepared, if there is a need to make further amendments in the sports policy for the betterment of sports and to promote sports talent, it will be done.
The Chief Minister said that a review would be done every three months regarding the development of sports at the state level and efforts would also be made to solve their problems by interacting with the players. The Chief Minister said that the people who are associated with sports in the state are doing good work, efforts will also be made to make Uttarakhand ideal in sports in 2025. There is no dearth of sports talent in our state, the environment here is conducive for almost all sports. He said that he is aware of the problems faced by talented players living in normal circumstances.
Chief Minister Dhami said that we are residents of Devbhoomi. Religion is our land of spirituality and yoga. Wherever we are, work to give our best in the interest of the state. The government stands with everyone as a partner and ally. With everyone's cooperation, we have to make Uttarakhand an ideal and developed state.
Program coordinator Durgesh Pant said that in this Bodhisattva program started from October 27, 2021, with the aim of making Uttarakhand self-reliant, first of all, the Prime Minister and the Scientific Advisor to the Government of India, Vice Chairman of NITI Aayog and all the advisors and heads of scientific institutions of the country and Participated by top scientists, planners and experts. A total of 13 seminars including 05 major and 08 minor seminars have been conducted under this programme.
Those who expressed their views on this occasion included shooting player Jaspal Rana, Ballywal player Arun Kumar Sood, athletics players Gurufool Singh, Manish Singh Rawat, Prof. AS Sajwan, Sukhbir Singh, golfer Dr. Havish Kumar, Yashoda Karnwal, mountaineer Lavraj. Dharamshaktu, Basketball player Shivam Ahuja, Archery Ramesh Prasad, Boxing player Naveen Chauhan, Cricket players Prajinder Singh and Liaquat Ali Khan and Badminton players Lakshya Sen, Chirag Sen, D.K.Sen, Associate Prof. Dr. CP Bhati through online medium. , Sukhbir Singh, Prof. from BHU. BC Kapri, Coach Indian Woman Boxing Bhaskar Bhatt, Mountaineer Sheetal Raj, Olympian Manish Rawat, Manoj Sarkar, Hockey player Rajendra Singh Rawat, Athletics CS Negi etc.
Special Principal Secretary Abhinav Kumar, Director Sports GS Rawat, former MLA Dr. Shailendra Mohan Singhal were present on the occasion.