---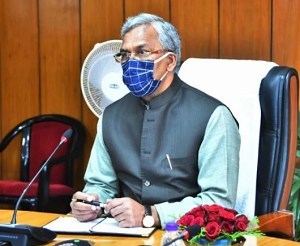 ---
Chief Minister Trivendra Singh Rawat is visiting Almora district today. He will leave Chamoli by helicopter at 12:20 am on January 27 and reach Harda helipad Almora at 12:45 pm. Self reached the venue of Harda at one o'clock. Surendra Singh will participate in the tribute program organized in the memory of Gina. Departing from the venue at two o'clock, Harda will depart from Helipad for Almora. Arrive at Army Helipad at 2:30 pm and reach Circuit House Almora at 2:40 pm.
In-charge officer specific visitor said that the Chief Minister will hold a meeting with party workers on January 27 from 3:30 pm to 4:15 pm. From 4:15 to 4:30 pm, reporters will talk. Departing from the Circuit House at 4:30 pm, Himalayan Bungalow will inspect the home-stay built on ancient architectural craft near Holy Angel Public School. Depart from there at 5:20 pm and reach Circuit House Almora at 5:40 pm and rest at night. On January 28, at nine in the morning, he will communicate with the daughters of the state associated with traditional appan art.
Depart from Circuit House at 9:35 am and reach Vivekananda Agricultural Research Institute at 9:45 am and will hold a review meeting with district level officials from 9:45 to 11 am. Departing from Vivekananda Hill Agricultural Research Institute at 11 am, at 11:10 am, the newly created Soban Singh will participate in the civic reception program organized at Jina University. Departing from Soban Singh Jeena University Campus Almora at 12:45 am, reaching the Army Helipad at 12:55 am, the Army Helipad will leave for Almora by taking an aerial survey of the Chaukhutia airstrip from Almora.