---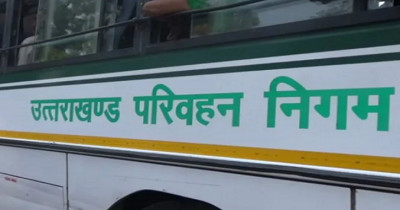 ---
Roadways workers associated with Uttaranchal Roadways Employees Union have gone on strike since Friday in all the seven depots attached to Dehradun division. He says that instead of issuing salary and other demands as per the notice given earlier, the roadways management has started the process of dismissal of employees from reckless service.
Around 1200 employees of Dehradun division have gone on an indefinite strike since Friday on the call of Uttaranchal Roadways Employees Union.
Apart from the three depots in Dehradun, about 1200 employees associated with the union of Kotdwar, Haridwar, Rishikesh and Roorkee depots will be involved in this strike. Since a large number of drivers and conductors are also connected to the union, the bus service will also come to a standstill due to this strike.
The work started in the rural depot from Thursday, and from noon onwards, the bus service running in the rural depot to Delhi, Tanakpur, Haldwani etc. was stopped.
All employees of rural depot on work boycott from Thursday due to adverse action in rural depot
State General Secretary of Uttaranchal Roadways Employees Union Ashok Chaudhary says that on 9 November, a demand letter was given to the roadways management, which warned of agitation if no action was taken.
Employees' representatives are being sacked against the rules for demanding salary instead of accepting other demands, including pay, which has caused fear and anger among all roadways employees. He said that it seems that if the salary is demanded, the corporation management will dismiss him from service on the pretext of some allegation.
He also informed that all the employees of the rural depot went on a work boycott from Thursday due to adverse action at the rural depot on behalf of the station superintendent Ramlal Panuli. From Friday, more than 1200 employees will go on an indefinite work boycott in all seven depots.
At the same time, the union ministerial minister KP Singh said that now his demand is that with the investigation of promotion of station superintendent Ramlal Panuli, he should be sacked from the post and released salary. Otherwise the roadways management will be responsible for the loss from this innovation.