---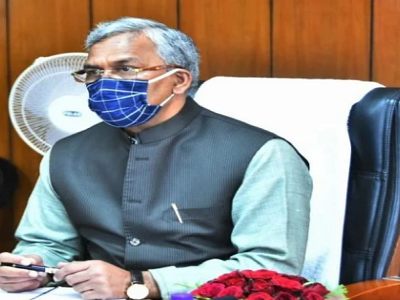 ---
In the election year, the BJP BJP MLAs are most concerned about the roads and bridges in their constituencies. Among them, his main focus is on the roads announced by Chief Minister Trivendra Singh Rawat. The Chief Minister has so far made 757 such announcements in 70 assembly constituencies under the Public Works Department.
Out of these, 615 roads have been cleared for the first and second phase. So far only 263 announcements have materially landed on the ground. The Kovid-19 epidemic also had an impact on the rest of the Chief Minister's announcements.
This is the reason that these days legislators have intensified the race to take swift action on the remaining announcements. They are wishing that the work on the roads announced by the Chief Minister should be completed at least in the election year.
191 announcements in the first phase
According to official sources, 191 announcements of the Chief Minister are in the process of first phase. In these, the work of survey, land acquisition and preparation of DPR is being done. Out of these, 46 declarations are such that technical sanction, tender, contract formation is to be done. There are 214 works to be done under 191 declarations.
A look at the figures
Chief Minister has made 757 announcements
Clearance issued on 615 announcements
Second phase approval on 424 announcements
191 declarations approve first phase
There are 873 works to be done under 757 announcements.
Of the 757 announcements the Chief Minister has made under the Public Works Department, about 873 works are to be done. The government has given approval to 701 works under 615 declarations of these. Budgetary provision has also been made with approval.
Budget will be released from the state sector
The budget will be released under the state sector for roads announced by the Chief Minister. Recently, a sum of Rs 100 crore has been released from the government level to the private sector in the state sector. In the supplementary budget, a separate budget has been made for the construction of roads and bridges. With the release of the funds, legislators have stepped up efforts to release the budget for the roads in their respective areas.
District wise details – Total work – completed physically
Uttarkashi                 –    81             –       15
Tehri                          –     88            –       13
Chamoli                    –      57            –        07
Rudraprayag            –     09             –      0
Pauri                          –      71             –      17
Dehradun                 –     133           –       60
Haridwar                  –     129          –       88
Pithoragarh             –       49          –         15
Champawat             –        15          –            0
Bageshwar               –        18         –         03
Almora                    –         85         –         19
Nainital                   –        46          –         21
US Nagar              –            92       –          28
Total                        –        873       –        286
The Public Works Department has more than 80 percent progress in the matter of the Chief Minister's announcement. Road proposals have been implemented rapidly. The department has been directed to work on priority proposals of the Chief Minister and the members of the Legislative Assembly in a time bound manner. In this financial year, more and more roads will be completed. – RK Sudhanshu, Secretary, Loniv