---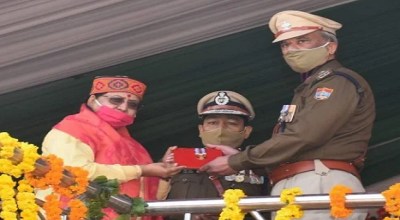 ---
At the main event held at the parade ground, Governor Baby Rani Maurya hoisted the flag and took salute of the parade saluting the national flag.
Army, ITBP, Police, PAC, Home Guards, PRD personnel saluted the Governor while marching. In the parade, folk artists from different parts of the state also gave a beautiful display of their folk culture. The Governor honored the outstanding police personnel for their outstanding performance. The program included tableaux of Forest Department, SDRF, Village Development and Ureda, Smart City, MDDA, Education Department, Tourism, Horticulture, Health and Industry Department. Through these people were informed about the schemes and policies of the department. Various cultural parties performed Chholiya, Kothik, Harul, Pauna dance and Nandadevi Rajajat etc.
Subsequently, 20 Kumaon Regiment, ITBP, 46 P Corps PAC Women, Uttarakhand Police, IRB I, Home Guards, PRD, Ashwa Dal, Police Communication, Riot Control Vehicles, Fire Extinguisher, CPU participated in the march past. In the marching contingents, the 20th Kumaon Regiment was ranked first, ITBP second and Uttarakhand Police Squad third. Earlier, Governor Baby Rani Maurya hoisted the flag at Raj Bhavan.
He paid his respectful tribute to the great heroes and the framers of the Constitution, who had all along surrendered for the independence of the country. On this occasion, Chief Minister Trivendra Singh Rawat, Rajya Sabha MP Naresh Bansal, Mayor Sunil Uniyal Gama, MLA Khajan Das, Chief Secretary Om Prakash, DGP Ashok Kumar and other officials, including public representatives were present.
He received the Governor Excellent Service Medal:
Governor Baby Rani Maurya gave the Governor Outstanding Service Medals to Deputy Superintendent of Police, SDRF Kamal Singh Panwar, Deputy Superintendent of Police Pradeep Madhukar Godbole, Inspector Civil Police Headquarters Mukesh Tyagi and Sub Inspector Civil Police Ramnaresh Sharma.