---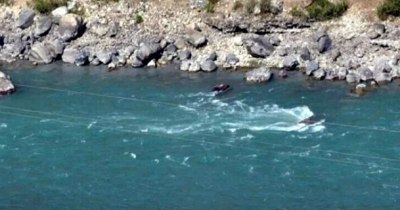 ---
The Langasu and Jilasu area located on the banks of Alaknanda near Karnaprayag in Uttarakhand's Chamoli district will develop into a tourist hub. Under this, elevated glass platform will be installed on Alaknanda River in Jilasu, as well as River Beach. The administration has prepared a master plan to promote tourism activities in the district and to develop Districtsu, Langasu as a tourism hub.
The River View in Jilasu, situated on the Badrinath Highway, attracts tourists. Tourists definitely stop here to enjoy the far-flung hills and the flowing Alaknanda. Therefore, the administration is preparing a plan to further develop this area under the master plan.
District Tourism Development Officer Vijendra Pandey said that about eight meters long and three meters wide elevated glass platform will be installed on the Alaknanda River in Districtsu. From one end to the other the bridge on the river will be like a bridge whose base will be of iron while the platform will be like glass.
River Beach will also be developed:
Standing on this glass platform, people will be able to enjoy the natural views in Jilasu. Also, the river beach will also be developed here. Along with this, tourists will also get night rest facility. Home stay will be provided for this. Also, Panchakarma Center of Ayurveda is being established in Langasu. Its work has been started, soon it will be ready as a platform.
With Badrinath Dham and Hemkund Sahib, lakhs of pilgrims and tourists reach some selected religious and tourist places every year. It is planned to develop the Jilasu and Langasu area with the aim of getting them exposed to new sites. Its proposal has been prepared.
– Swati S Bhadauria, DM, Chamoli.