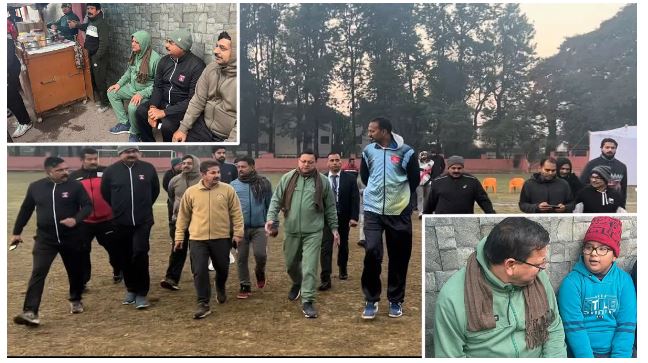 In the early hours of Saturday, the players were engaged in their daily practice at the ONGC Stadium in Dehradun when suddenly Uttarakhand Chief Minister Pushkar Singh Dhami reached there.
The players looked excited to see him in front of them. Chief Minister Dhami jogged with the players and later like a common man went to tea stall to have tea.
According to information, Chief Minister Pushkar Singh Dhami reached ONGC Ambedkar Stadium this morning for a tour. Here he jogged with national and international level players practicing in the stadium.
He talked about creating awareness with meaningful initiatives on many points to connect the young generation with sportspersons and sports spirit.
During this, the Chief Minister had tea with sportspersons and local people at the local tea stall like an ordinary citizen and also took feedback on various schemes being run by the government.
Chief Minister Dhami met the meritorious students on India tour:
On the other hand, Chief Minister Pushkar Singh Dhami met the meritorious students of Devprayag assembly constituency going on Bharat Darshan Yatra at Chief Minister's residence on Friday. He said that Devprayag's MLA Vinod Kandari's work of taking meritorious children on an educational tour is commendable.
Meritorious students will get to learn new things while visiting India. Along with seeing India, he will also see the future. Chief Minister Dhami said that an action plan will be prepared by the state government in future to take other meritorious students of the state on a tour of India like this.
Addressing the children, the Chief Minister said that in whatever field they work in future, they should act as leaders. If any work is done with full dedication and determination, then there is definitely success in it. He said that man is a reservoir of infinite energy.