---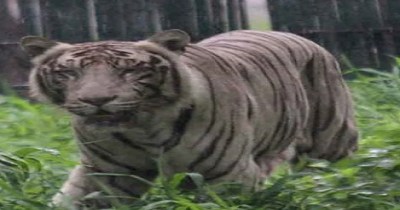 ---
Like Madhya Pradesh, tourists will be able to have white tiger sightings in Corbett National Park. For this, an exercise is being done to bring white tiger from Madhya Pradesh. A letter has also been written to the Government of Madhya Pradesh for this. This was stated by Tourism and Irrigation Minister Satpal Maharaj in his address.
The Tourism Minister said that Ramnagar is a tourism hub, with Jim Corbett being the workplace. Apart from being full of natural beauty, a large number of tourists from all over the world come here to see the wildlife in Corbett Park. Maharaj said that there is a plan to bring white tiger from Madhya Pradesh to Corbett Park, for this correspondence is being done with the Madhya Pradesh government. Bringing the white tiger to Corbett Park will boost tourism here. Employment opportunities will also increase around local youth. In addition, there are plans to drive electric vehicles in the tourist area around Corbett Park.
Tourists will also be introduced to Uttarakhand's products and traditional costumes and culture. For this, the Home Stay Scheme is also being run by the Tourism Department, due to which the economic development of youth and women in rural areas has taken place. At the same time, home stay has been liked by tourists. Please tell that white tiger safari is done in Mukundpur in Madhya Pradesh. Out of an area of ​​100 hectares, Mukundpur Zoo is on 75 hectares and white tiger safari has been taking place since 2012 on 25 hectares.
Seeking to start adventure sports training:
State Youth Convenor of BJP Yuva Morcha Rahul Rawat gave a memorandum to the Tourism Minister about the development of adventure sports training. Said that the youth of Uttarakhand have to go to Himachal Pradesh for paragliding pilot training, while Kotabagh, Nainital has a world-class paragliding site, which has been operated for the last 3 years under limited resources from the Kotabagh Paragliding and Adventure Association is. In such a situation, more and more youth are facing difficulty in giving free pilot training. The youth of the entire state will benefit from the increased facilities in the training center. The tourism minister assured that the state government is serious about adventure sports and tourism.
Benefits of employment oriented schemes should be provided:
Mahesh Joshi, co-convenor of the anti-eco-sensitive zone committee, while giving a memorandum to the tourism minister, said that the youth is unemployed in more than 36 villages of Ramnagar block. Virchandra Singh Garhwali, Tourism Scheme, Pradhan Mantri Swarojgar Yojana, loans are not available. He has demanded to provide benefits of the schemes to unemployed youth and women.