---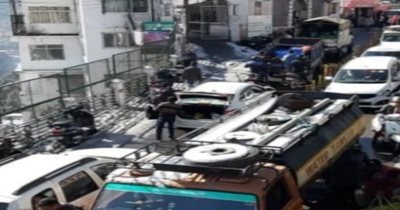 ---
If you want to roam the Mall Road of Mussoorie, then you have to enter the city before five o'clock in the evening. After this, no vehicle will enter the goods road. This decision was taken by Municipal Corporation President Anuj Gupta in a meeting of the councilors and police administration on Monday. It has been decided in the meeting that all parking operators will also put their rate list compulsory.
In the meeting held in the municipality, it has been decided that after five o'clock on Mall Road, the entry of any vehicle other than emergency service will be banned from full thar. Vehicles will be able to enter the parking lots inside and outside the goods road before five o'clock, but all parking operators must compulsorily rate the list. Apart from this, strict action will also be taken on two-wheelers and unnecessarily running vehicles.
The Municipality President has asked the city Kotwal to take action against such vehicles. Municipal Councilors Pratap Panwar, Jasvir Kaur, Darshan Rawat, Kuldeep Rauchela also supported the halt of vehicles on Mall Road after five o'clock.
City Kotwal Devendra Singh Aswal told that no vehicle will get entry on Mall Road after five o'clock. There will be a smart parking system outside the Mall Road. On Saturday and Sunday, if there is no space in smart parking, then vehicles will be sent to the parking lot inside Mall Road.
Mussoorie-Jhadipani bus service people upset:
The Mussoorie-Jharipani bus service has been closed for the last ten months. Due to this, the locals as well as the travelers going to Tehri, Chamba are facing trouble. In view of the problems of the people, Palika chairman Anuj Gupta has written a letter to the Transport Secretary, demanding that the bus service be restarted.
In a letter to the Transport Secretary, Municipal Commissioner Anuj Gupta said that the Dehradun-Jhadipani-Mussoorie and Dehradun-Chamba bus service has been closed for the last ten months due to the Coronation period. Due to which the local people are facing troubles.
He said that several times have been demanded from the officials of the Transport Corporation for the resumption of the bus service, but no action is being taken in this regard. Due to this, job people and students including regional residents are facing difficulties in movement. At the same time, Jharapani resident Prerna Bhandari told that she goes to Dehradun College from Mussoorie, but due to the closure of the bus service, she has to walk to Chunakhala or Kolhukhet.
At the same time, Deepak Jain, General Manager of Transport Corporation in this regard says that due to Covid-19, passengers were not getting on this route. Hence bus operations were discontinued. He said that bus service will be started soon.