---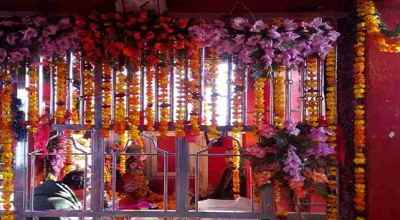 ---
The world famous Purnagiri fair will begin from today in Champawat, Uttarakhand. Fair officer AMA Rajesh Kumar said that at one o'clock on Tuesday afternoon, the state cabinet minister Banshidhar Bhagat will inaugurate the fair by offering prayers at Thuligad.
He has said that the pilgrims will have to follow the government's guideline to avoid the corona at the fair. Maa Purnagiri Dham holds a three-month fair every year from the next day of Holi, but this time the administration has fixed the fair period for 30 days, due to the risk of corona infection. Starting from 30 March, the fair will run till 30 April.
Fair Magistrate SDM Himanshu Kafaltia informed that all arrangements for the fair have been finalized. Arrangements like path lighting, temporary toilets, pilgrim rest sheds etc. from Kakraliget to the main temple have been completed.
Arrangements for investigation have been made through thermal screening of pilgrims at various places. Security Nodal Officer CO Avinash Verma said that due to the Kumbh Mela, at present, the force of the district will take care of the security arrangements of the fair. The force which went on duty for the Kumbh Mela has also been recalled.
Roadways will run ten buses:
This time also at Purnagiri fair, Roadways will run ten buses from Tanakpur to Purnagiri. ARM operations KS Rana said that ten buses have been arranged to run on the Purnagiri route. Buses will be operated from Roadways Bus Station.
Mela special train will not run:
For the Purnagiri fair, special trains will not be operated at the moment. However, the Triveni Express will start operating from April 1. Passengers will have to come by regular trains, roadways buses or private vehicles.
Rajendra Singh, the PRO of Izatnagar division, said that it has not been decided by the Railways to operate special trains for the Purnagiri fair at present. Explain that a month ago, the DRM, who came to inspect the Tanakpur station, had asked Ashutosh Pant to operate special trains for the Purnagiri fair.