---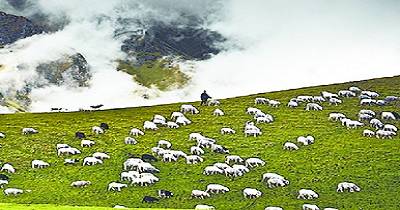 ---
With the cooperation of the villagers, tourism with nature and environment protection will be promoted here, which will also provide employment to the local. The Eco Development Committee will be set up for the conservation of Bugyal.
Tingri Bugyal is spread over an area of ​​miles at the foothills of the central Himalayas, about ten km above the village panchayat Buruwa in the Madmaheshwar valley. From here, mountain rajas are seen in the Chaukhambha mountain range of Himalayas. Also, a grand view of the villages spread over the valley area is visible.
Spread in the lap of nature, this area is found with rare herbs as well as many types of floral species, which enhance the beauty of the place. Bingudi Tal and Son Bugyal are also reached from Tingri Bugyal, which is famous for its natural beauty. Now, Kedarnath Wildlife Division is preparing an action plan to make Tingri Bugyal and the surrounding area a hub of eco-friendly tourism.
Here, the tourists who arrive will have to bring back the waste of food items packed with wrappers and wrappers from trek to Bugyal. Madan Bhatt, president of the Madmaheshwar Valley Development Forum and Saroj Devi, the village head of Buruwa, say that the plan by the forest department to make Tingri Bugyal an eco-friendly tourism hub is commendable.
Nature has unleashed a unique beauty in the miles here. Along with the environmental protection of the department, the tourism campaign will also provide employment opportunities. Every possible support will be given to the department at the village level also.
Many tourists reached Tingri Bugyal to celebrate the new year
This time hundreds of tourists reached Tingri Bugyal from Bangalore, Pune, Bhimtal, Dehradun, Srinagar and other places to celebrate the new year. Vivek Uniyal and Udit Pandey, who came from Bangalore, said that Tingri Bugyal is rich in nature.
Lalit Mohan of Srinagar, VS Negi, says that Tingri is one of the finest Bugyalas in Garhwal. These youths also cleaned the garbage and garbage found in many places between Buruwa to Tingri and disposed of it properly.
Neha Paul, an automation engineer in the team, says that the common man and the department will have to work together to maintain biodiversity in Bugyalas and dense forests.
Tingri Bugyal, Bisudi Tal and the surrounding area will be made the hub of eco-friendly tourism. For this, cooperation of nearby villages will also be taken, which will also protect the Bugyalas and also provide employment at the local level. Guidelines will also be prepared for tourists at departmental level, which will be compulsory.
– Amit Kanwar, DFO Kedarnath Wildlife Division, Gopeshwar / Chamoli