---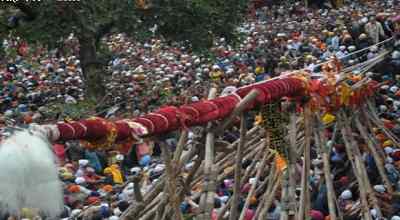 ---
The historic Shri Jhanda Ji Mela will begin on Panchami Tithi, April 2, 2021, in Dehradun. Sajjadanshin Shrimhant Devendra Das Maharaj of Shri Darbar Sahib took stock of the preparations for organizing the flag and the fair of Shri Jhandeji. He issued necessary instructions to the officials associated with the fair management.
In his message, Shrimant Devendra Das Maharaj has issued an advisory for the protection of coronavirus for all the devotees and devotees. He has appealed to follow the government's guidelines at the fair.
It is worth mentioning that on the birth anniversary of Sri Guru Ram Rai Maharaj, the Shri Jhande Ji fair is organized every year in Sri Darbar Sahib Dehradun. Sri Guru Ram Rai Maharaj was born on the fifth day of Holi in the year 1646 on Chaitravadi Panchami in Kiratpur (District Hoshiarpur), Punjab. Since then, the historic Shri Jhandeji fair is organized by Sangatas on the fifth day of Holi (Chaitravadi Panchami) in Dehradun every year.
This year Jasveer Singh's son Surjit Singh resident of Jelsingh Nagar, Ropar, Punjab has got the privilege of offering a darshan to Shri Jhandeji. Millions of Sangathas reach Dehradun from abroad, the country to be held in Sri Darbar Sahib. The fair management has started preparations for the climbing of Shri Jhandeji and organizing the fair. Fair officer KC Juyal told that there is an atmosphere of fury in the Sangatas and the Dunawans as every year about the event.
The flag is installed in the Darbar Sahib of Dehradun. Every year there is such an influx of faith that even those who see it do not believe the eyes. This Darbar Sahib was founded by Sri Guru Ram Rai Ji. Aurangzeb was considered very close to Guru Ram Rai. Aurangzeb gave Maharaj the title of Hindu Pir. Guru Ram Rai Ji came to Dehradun and camped. It was then called Dera Doon. But later it became world-famous by the name of Dehradun. The Darbar Sahib was built here and the flag was established here.