---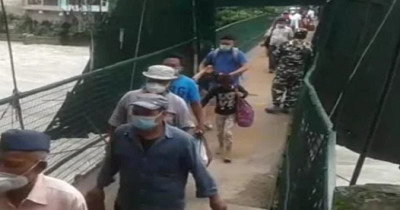 ---
After the lockdown, there will no longer be movement to each other's nearby countries from the Jhulapulas connecting Indo-Nepal closed to normal traffic. Passes are being made in both countries from the local administration level. The administration of both countries has taken this step to control the congestion when the bridge is opened.
In view of the Corona infection, the Jhulapul, connecting India-Nepal, was closed in March. Since then the movement between India and Nepal has not been normal. After the consent of the administration of both the countries at the request of the people, the jhulapul is being opened for some time.
Since March, the bridges at Dharchula, Baluwakot, Jauljibi and Jhulaghat have been opened to Nepal's Indian pensioners about three times. Apart from this, India has opened zulapul, showing generosity to the sick and injured of Nepal.
There is a huge rush for traffic between the two countries as soon as the bridge is opened due to the bread-daughter relationship between the two countries and Nepal being dependent on the Indian market. This increases the risk of corona infection. In view of this, the administration of both the countries has made the pass mandatory for commuters.
Only after being shown the pass is being allowed to enter another country. In view of the risk of corona infection, all citizens coming from Nepal to India are being screened. For this, the Health Department team has been deployed on the bridge.
You have to bring the pass of the day you want to go:
In order to travel between India and Nepal from Dharchula Jhulapul in Uttarakhand, a pass of the same day will have to be shown. The old pass will not be allowed to enter. On Saturday, people coming from Nepal were not allowed to enter India due to a day old pass. The gates of Jhulapul were opened only after the concerned people made the pass again.
Jhulapul opened on Sunday morning and evening:
On Sunday, Jhulapul of Dharchula was opened from 9 am to 10 am and from 4 pm to 5 pm. According to the information received from the local administration, the resident of Dharchula was the shradh of the mother of a person. His relatives from Nepal came to India to join it. An hour-long bridge was opened for relatives coming from Nepal. After this, the bridge was opened from 4 pm to 5 pm to go back. During this time other people also came.
A large crowd of people traveling from one country to another is gathering when Jhulapul opens. Due to the risk of corona infection, precaution is necessary. A pass has been arranged to control the crowd. Passes are being made from local administration in both countries. Traffic will be allowed only on showing the pass.
Anil Kumar Shukla, SDM Dharchula (Uttarakhand)