---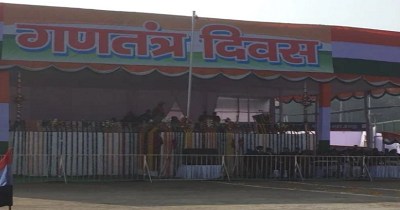 ---
The Republic Day parade will be on the road for the first time under the aegis of social distancing. As a precaution, the force joining the parade as a precaution has decreased by almost one-third. This time, only eight platoon will participate in the ritual parade instead of 12.
Preparations in the last phase:
Preparations for the Republic Day parade are currently in the final stages. All the permanent and temporary works are being carried out rapidly in the parade ground. With this, the police have also intensified their preparations. Many important decisions have also been taken in view of taking care of social distancing.
All measures will be adopted to prevent infection:
SSP Dr. Yogendra Singh Rawat said that all measures will be adopted to prevent corona infection. As per the schedule, only eight platoon will be included in the parade. These will include platoon of ITBP, Army, District Police, PAC, Home Guards and NCC.
In view of social distancing, this year the Ritual Parade will start march past from the Pavilion Ground and enter the parade ground in front of Dunga House via Lansdowne Chowk, Kanak Chowk. After marching from the front of the stage, the employment will go from Tirahe to back to the pavilion ground via parking near the water tank.
The width of the parade ground platform increased:
The width of the platform of the parade ground has been increased for the march past of the platoons in view of social distancing. Apart from this, an action plan has been prepared for effective arrangement of parking and security arrangements in view of the participation of distinguished guests in the ritual parade. Besides, coordination is being done with the concerned departments for timely completion of other arrangements.