Herbal and medicinal plant products should be promoted to increase the income of farmers – Chief Minister
Clusters should be made according to the geographical conditions of the state.
Herbal Healing and Wellness Center should be established soon.
Good quality plant material should be made available.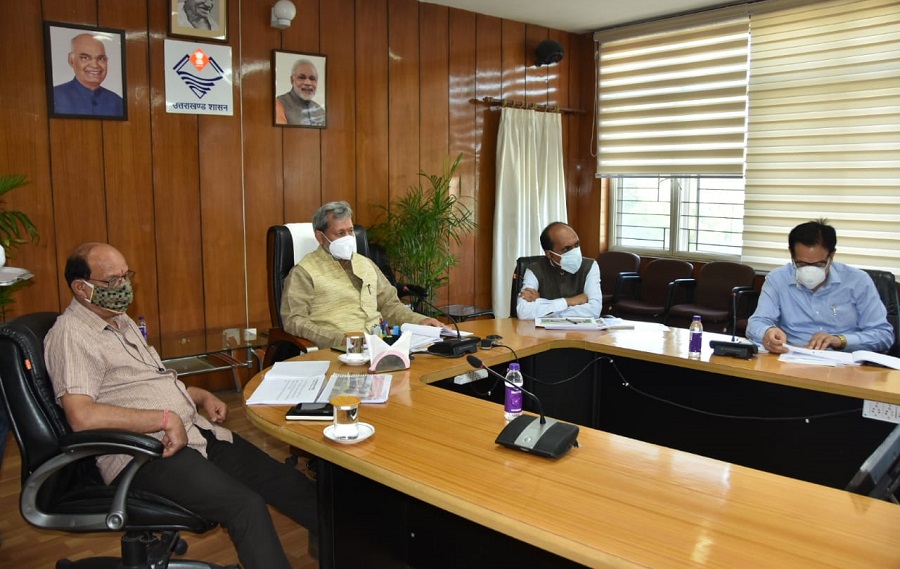 Chief Minister Tirath Singh Rawat held a review meeting of the schemes of Herbal Research and Development Institute and Uttarakhand Sangha Plant Center (CAP) Selakui at the Secretariat. The Chief Minister said that to increase the income of farmers, herbal products should be promoted along with agriculture and harticulture. In order to promote herbal products, along with bringing awareness to the people, arrangements for its training should also be made. Special attention needs to be given to how farmers can be helped. Good quality planting material should be available to the farmers. Clusters of products of different species should be made according to the geographical conditions of different regions of the state. On this occasion, the Chief Minister launched 'Ganiya' herbal hand sanitizer made by the research and development team of CAP.
During the review of the Institute of Herb Research and Development, the Chief Minister instructed the officers that some big products should be promoted. Three or four such products should be selected, so that Uttarakhand has a different identity in the country. There should also be a marketing plan for this. To prevent migration from the mountainous areas and increase the income of the farmers, it is necessary to give a separate identity to the products. For this, choose the products soon. It should be ensured that results start appearing within 06 months. A herbal healing and wellness center should be set up by HRDI soon with the help of the Department of AYUSH. Farmers should be made aware to promote herbal based local products of Uttarakhand.
During the review of Uttarakhand Sangha Plant Center, Chief Minister Tirath Singh Rawat said that out of 109 clusters of CAP, many clusters can also be used for HRDI. Special attention should be paid to value chain management in both HRDI and CAP. Accurate projects should be made to take advantage of various schemes of the Government of India. In the next 06 months, rapid work should be done in the direction of construction of Hi-Tech Nursery, Aroma Park policy and Industrial and Medical Hamp policy.
It was informed in the meeting that 21 thousand farmers of the state are connected with the Uttarakhand Sangad Plant Center. 109 clusters have been made in the state. This includes rehabilitation of abandoned land, cultivation of Damsk rose as transboundary crop, cultivation of Japanese mint as mixed farming, cultivation of brisk as forestry crop and cultivation of chamomile and other crops as short duration. Attention is being given. The cap has a CAGR of 37 percent. 26 thousand farmers of the state are associated with Herbs Research and Development Institute. 03 centers have been established for monitoring and supervising herb research and development in the marginal districts of Chamoli, Uttarkashi and Pithoragarh. Models of 12 different medicinal gardens have been established in the institute's board nursery. A museum and herbarium have been established in the Institute Headquarters Board. 6 herbal teas like Morning Herbal Tea, Evening Herbal Tea, Night Herbal Tea, Queen Herbal Tea, King Herbal Tea and Hipophy Herbal Tea were manufactured by the Institute for technical transfer. A brief agricultural technique booklet of 38 species was published for the tenants of the state. Research and development is underway to develop 100 medicinal products.
Agriculture and Horticulture Minister Mr. Subodh Uniyal, Chief Advisor to Chief Minister Mr. Shatrughan Singh, Principal Advisor Mr. RBS Rawat, Additional Chief Secretary Mrs. Manisha Panwar, Secretary Mr. Harbans Singh Chugh, Director Horticulture Dr. HS. Baweja, Dr. Nripendra Chauhan, Scientist of the Sangu Plant Center, Dr. CS, Director of the Institute of Herbs Research and Development. Sunwall etc. were present.