---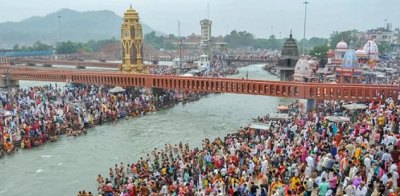 ---
The government of Uttarakhand spoke to the Center on organizing the Maha Kumbh. After the talks, it has been decided that the Central Government will issue the SOP of Maha Kumbh for taking precaution in view of Covid-19. At the same time, the Indian Council of Medical Research (ICMR) has also expressed concern over the holding of Kumbh in the shadow of Corona.
After the High Court order, the State Government held talks with the Center. One officer from Uttarakhand had gone to Delhi, while the rest had joined the virtual medium. There was a discussion about the crowd in Mahakumbh in the meeting. It was also revealed that the new strain of Corona remains a threat, so extra vigilance will have to be taken regarding the event. ICMR scientists also said that since the shadow of the corona is not yet over, the Mahakumbh needs extra vigilance.
It was decided that guidelines will be issued by the Central Government for Mahakumbh. On this basis, strict rules will be followed. It is expected that SOP will be released in the next week. The central government has also acknowledged that since the Mahakumbh receives devotees from various states of the country as well as from abroad, it is necessary to take precautions. The notification of Mahakumbh will be issued by the state government in late February.
Considering the circumstances of the coronary period, the state government wants that the Kumbh Mela should not attract too much crowd. It is also wishing that the presence of a limited number of devotees should be arranged at the state level. The central government's role of arbitration will be more effective in this.