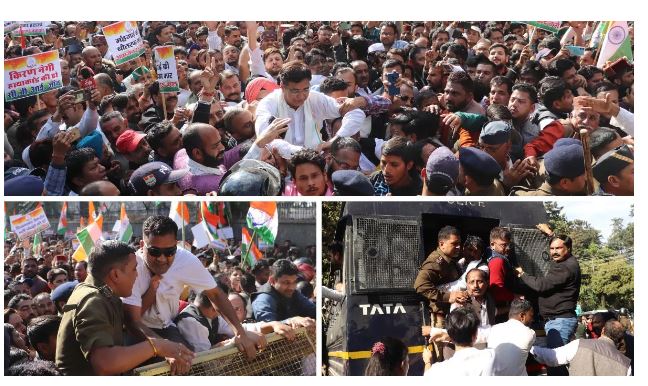 Former Congress state president, former Leader of Opposition and Chakrata MLA Pritam Singh demonstrated strength on Monday through the secretariat march. Out of 19 Congress MLAs, 14 MLAs including Pritam participated in this march. Due to this, the politics of polarization within the party seems to be taking a new shape. Congressmen on Monday marched to the secretariat against the state government on various issues including crime against women, recruitment examination scam, corruption.
On the call of Pritam Singh, a large number of workers from all over the state gathered at the Rangers ground with Dhol-Damau. After meeting here, he traveled to the Secretariat via Darshan Lal Chowk, Ghantaghar, Eslehal, Globe Chowk. However, the police stopped the procession by erecting barricades before the Secretariat on Subhash Road, on which several Congress leaders climbed over the barricades. During this, there was a heated argument between the police and the protesters. The protesters started protesting there itself. Later, the police took them into custody and took them to the Reserve Police Line at Race Course and released them on personal bond.
Leader of the Opposition Yashpal Arya, Deputy Leader of the House Bhuvan Kapri, MLA Tilakraj Behad, Gopal Rana, Mayukh Mehar, Madan Singh Bisht, Adesh Chauhan, Sumit Hridayesh, Mamta Rakesh, Furkan Ahmed, Virendra Jati, Ravi Bahadur and Vikram Singh Negi during the secretariat march. Former ministers Dr. Harak Singh Rawat, Heera Singh Bisht, Dinesh Agarwal, former MLA Vijaypal Sajwan, Youth Congress State President Sumitar Bhullar, Metropolitan President Lalchand Sharma, Suryakant Dhasmana, Aryandar Sharma, former MLA Rajkumar, President of Metropolitan Business Cell Sunil Kumar A large number of Congress workers including Banga participated.
Now the battle to save the state will have to be fought: Harak
Former minister Dr. Harak Singh Rawat said that today the souls of the agitators who sacrificed their lives for the formation of the state are crying. Vanantara case, the failure of the government to punish the culprits in the UKSSSC recruitment scam has come to the fore. Relatives did not get justice in the case of rape of a girl from Uttarakhand in Chhawla, Delhi. Women crime, unemployment is at its peak. He said that earlier the battle was fought to create Uttarakhand, but now the battle to save Uttarakhand will have to be fought.