---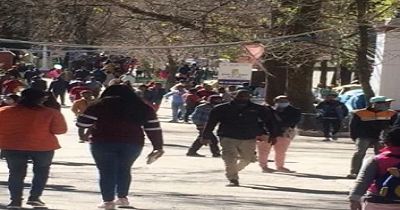 ---
Summer heat is felt in Nainital due to the heat of Sun God, whereas usually Nainital had a cold winter with snowfall in these days. The tourists are also surprised by this weather pattern in January. According to meteorologists Nainital is not expected to get snowfall for the next three days.
Let us know that until a few years ago, Nainital used to get snow till the last week of December. Due to this, there was a chill in January. But this year the weather pattern is completely opposite. In the first week of January, there was definitely a cold day, but on other days, the afternoon weather has been a relief.
There is no effect of cold at other times except in the morning and evening. From morning to afternoon, the open sky and the bright sunshine tourism businessmen are also feeling very happy. According to meteorologists, for the next few days, there will be similar sunshine in Nainital.
Due to lack of pollution and fog in the mountainous areas, good sunlight blooms in the winter, while pollution and fog in the Terai reduces the effect of sunlight. Cold wave conditions will continue in the Terai-Bhabar for the next three days and moderate to dense fog may occur. It will be cold in the night. Snowfall is not expected in Nainital for the next three days.
Dr. RK Singh, Senior Meteorologist Pantnagar University
Nainital temperature in the past
Date                                maximum          minimum
11 January                                13                      6
10 January                               14                      6
9 January                                12                       5
8 January                                12                       4
7 January                                13                       4
6 January                               10                       3
5 January                              13                        3
4 January                             12                      10
3 January                              8                        1
2 January                           14                         4
1 January                           12                         4