---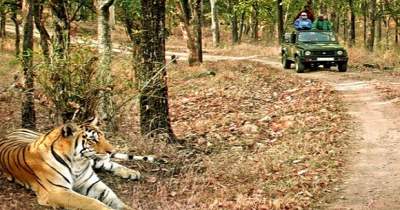 ---
Corbett Tiger Reserve has become the first such tiger reserve in the country, which has an effective foreign medicine to rescue and control wildlife. The specialty of this medicine is that by tranquilizing a wildlife, it becomes unconscious within two minutes. Recently, Corbett Park veterinarians using this medicine have tranquilized a tigress and a tiger and left it safely in Rajaji National Park.
Corbett Tiger Reserve (CTR) has been trying for this drug since 2017. This foreign drug obtained by CTR came from Mexico and Africa. The price of these drugs, found in mid-December, is said to be more than twenty lakh rupees. Veterinarian Dr. Dushyant Sharma of Corbett Park said that the drug was used to rescue tigress in Bijrani range on 23 December and tiger in Laldhang of Jhirna range on 8 January. Wildlife Institute of India already has this medicine.
This drug is very effective and safe:
According to vet Dr. Dushyant Sharma, this drug is very effective and safe. On December 23, the tigress fell unconscious after two minutes of tranquilizing and then soon became conscious as soon as she put an antidot on a radio collar. After this, on 8 January, the tiger became unconscious within two minutes after tranquilizing it. The tiger fully regained consciousness as soon as he applied the antidote.
So far, wildlife had to be found after tranquilizing:
The vet said that when a wildlife had to be resuscitated earlier, it took the animal twenty minutes to faint after tranquilizing. During this time it was challenging to find his escape, as he walked in the bushes. During this, there was a possibility of his attacker. Now in a few minutes, the wildlife becomes unconscious and is easily caught by foreign medicine.
These three foreign medicines were found:
The Corbett Tiger Reserve has received three foreign medicines after three years of hard work. Along with these drugs, Corbett has also found his antidote. These foreign drugs include atrophine anti-atelazone, atidomazine for anti-drug, atypimezol and anti-tolazoline for kervidine.
Foreign medicines were needed to safely rescue wildlife. After three years, Corbett Tiger Reserve finally has a foreign drug. Now wildlife can be resuscitated easily.
-Rahul, Director Corbett Tiger Reserve