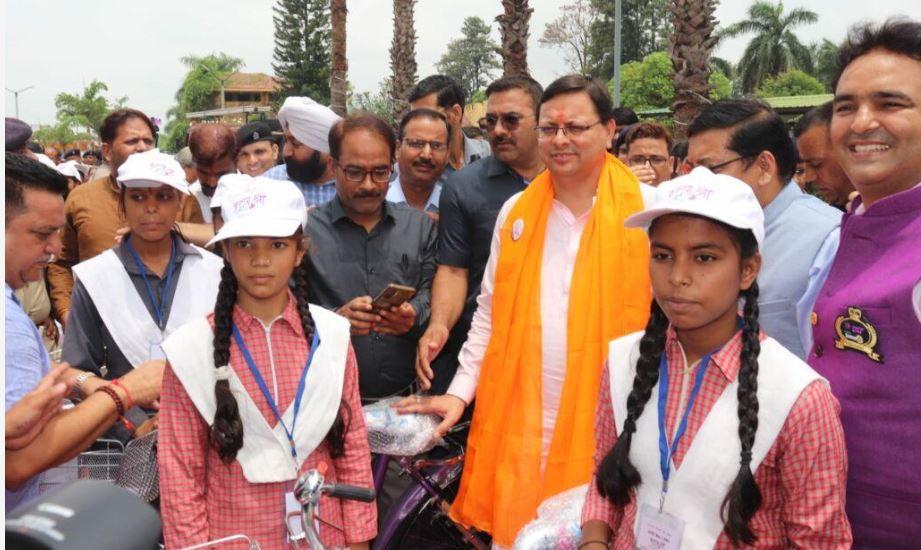 Chief Minister Pushkar Singh Dhami said that Rotary Club has become synonymous with service, help and dedication and is doing better work in improving the society. Whenever such organizations come forward and work in the public interest, then there is more rapid social development. He said that one can live for himself, but a good life is that which is lived for others. A person who works in the interest of society and country is remembered for a long time.
On Friday, Chief Minister Pushkar Singh Dhami, while inaugurating the Kanyashree program organized by Rotary Club at Hotel Ananya on Ramnagar Road in Udham Singh Nagar district, said that Rotary Club has worked to provide selfless services and advance the society. Rotary Club should work by setting some goal for the 25th anniversary of the state so that Rotary Club can present that work as an example to the whole world. In the program, the Chief Minister distributed cycles to 200 girls from class 9 to 11.
He congratulated Jennifer E. Jones as well as welcoming all the office bearers and members of Rotary Club to Devbhoomi Uttarakhand on becoming the International President of Rotary Club for the first time in the history of 117 years.
He said that this is really a good initiative of Rotary Club's District Governor Pawan Agarwal. With this, Rotary Club is making a mark in India. He expressed confidence that in future also Rotary Club would continue to work in this manner. Chief Minister Pushkar Singh Dhami said that the club has made a very good start for the girl students who come to school on foot from a long distance, this will increase the confidence of the girl students, besides saving time that they will also be interested in their studies.
The Chief Minister said that the Beti Bachao-Beti Padhao scheme, started by Prime Minister Narendra Modi from Haryana for the upliftment of the honor and mother power of daughters, is running in the entire country today. He said that it is everyone's responsibility to keep the country healthy and clean. Under the Swachh Bharat Abhiyan, instead of doing formalities, everyone will have to contribute in keeping the country clean and healthy by making changes in their daily habits. He said that we have to pass on cleanliness related habits from generation to generation in the form of sanskar. The Chief Minister said that a 10-year road map should be prepared for the all-round development of the state.
When the state is celebrating its 25th anniversary, then the state will be the best state in the country in all fields. He said that a committee has been constituted under the chairmanship of former judge Ranjan Prakash Desai to implement the Uniform Civil Code in the state, which will give its report after talking to all the stakeholders as well as interacting with the public. He said that beautification and expansion of Kumaon temples is being done under Manas Mandir Mala Yojna.
He said that the State Government is committed towards transparent and corruption-free good governance. Corruption will not be tolerated in the state under any circumstances. 1064 number has been issued for direct attack on corruption in the state. He said that any person can file a complaint related to corruption, the name and identity of the person who lodged the complaint will be kept confidential. Under this, action has been taken against more than 8 persons and many complaints are on surveillance. He said that ropeway facility would be available at 35 places of the state including Hemkund Sahib under Parvat Mala range in the coming time. He said that this time Chardham Yatra and tourism season is going to break all previous records.
He said that this time more than 4 crore Shiva devotees are expected to reach Kavad Yatra, Shiva devotees coming to Kavad are welcome in Devbhoomi. He said that travel should be simple, smooth and safe. Along with this, he gave detailed information about various development works and schemes being done by the state government.
On this occasion, District Governor of Roti Club, Pawan Agarwal said that Rotary Club has branches in all the countries of the world. The Rotary Club was formed in 1905. Club's District Governor Pawan Agarwal said that for the first time in its 117-year history, a female Canadian Jennifer Lone is becoming the Rotary's International President. In view of this, cycle distribution programs are being organized for women across the country under Kanya Shree Yojana. Cycles are being distributed to 2100 girl students across the country. Cycles are being distributed to girl students from class 9 to class 11. The girl students have been selected from Government and Vidya Bharti. He said that the aim of Rotary Club is to educate maximum number of girl students. He said that electronic tablets of educational aid would be distributed to the girl students in the coming October.
In the program MLA Trilok Singh Cheema, Diwan Singh Bisht, Mayor Usha Chaudhary, Forest Development Corporation President Kailash Gahtori, former MLA Harbhajan Singh Cheema, including Deepika Gudiya Atreya, Mukta Singh, Anurag, District Governor Prachi Agarwal, District Magistrate Yugal Kishore Pant, SSP Manjunath TC, Deputy District Magistrate Abhay Pratap Singh, girls and members of the club were present.