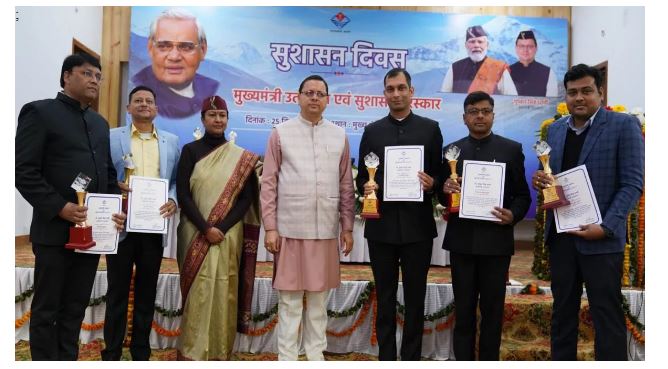 Chief Minister Pushkar Singh Dhami honored the officers and employees who did commendable work on Good Governance Day with the Chief Minister's Excellence and Good Governance Award.
During this, the Chief Minister remembered former Prime Minister Bharat Ratna late Atal Bihari Vajpayee and described him as the unborn enemy of Indian politics. In the program, the Chief Minister presented the Chief Minister Excellence and Good Governance Awards in various categories for the year 2020-21 and the year 2021-22.
Congratulated all the officers and employees:
The Chief Minister congratulated all the officers and employees who received the award in the program organized at Chief Minister's residence on Sunday. The Chief Minister hoped that everyone would continue to work with the same attitude in the future.
In the program, the Chief Minister honored IAS Vishal Mishra, Dr. Rajeev Kumar, SSP Ajay Singh, Dr. Rajeev Kumar Sharma, Drishti Anand, Manish Khatri and Constable Naveen Kathait in individual category-1 for the year 2021-22. In individual category-III, this award was given to Ashish Kumar Mishra and Ranjana.
In the collective category, group leader Additional Chief Secretary Radha Raturi and team, group leader secretary Chandresh Kumar Yadav and team, group leader commissioner housing Surendra Narayan Pandey and team, group leader IAS Ashish Chauhan and team, group leader IAS Vijay Kumar Jogdande and team Two prizes were awarded.
Apart from these, Group Leader IAS Swati S Bhadauria, Group Leader IAS Himanshu Khurana and team and SP Shweta Choubey and team were given awards. The Chief Minister honored IAS Mayur Dixit, PCS Yukta Mishra, Professor Kamal Kishore Pandey, Dr. Anita Tomar, Pankaj Kumar Uperti and Vimi Joshi in Individual Category-I for the year 2020-21.
This award has been given to Ranjana in individual category-3. In the group category, group leader Shailesh Bagoli and the team got two prizes. Apart from these, group leader Sonika and team, group leader Eva Ashish Srivastava and team, group leader Dr. Ashish Kumar Tripathi and team, group leader Neetika Khandelwal and team, group leader Abhishek Tripathi and team.
'Outstanding District Magistrate Award' to five IAS:
Governor Lt. Gen. Gurmeet Singh (Senior) presented 'Outstanding District Magistrate Awards-2022' to five IAS officers at a function organized at Raj Bhavan on Good Governance Day. These District Magistrates include Vinay Shankar Pandey (Haridwar), Dhiraj Singh Gabryal (Nainital), Dr. Ashish Chauhan (Pauri), Mayur Dixit (Rudraprayag) and Himanshu Khurana (Chamoli).
In the function, the Governor said that there is a need for a direct, emotional connection between the administration and the public to ensure top-to-bottom and bottom-to-top governance. The problems of the public can be solved by the joint efforts of hardworking and alert officers and their team.
The Governor said that the role of district administration is important in good governance. This is the most important step for better implementation of government schemes. He said that the objective of good governance is to ensure inclusive and all-round development.
Remembering Bharat Ratna former Prime Minister Atal Bihari Vajpayee, he said that Vajpayee, rich in extraordinary personality, was considered an icon of good governance. He believed that good governance can be achieved only through overall efforts. It is very important for the empowerment of citizens. With this, we can benefit the person standing at the last end of the society.
Secretary Governor Dr. Ranjit Kumar Sinha said that with the inspiration of the Governor, for the first time this year, district magistrates have been honored for the implementation of public welfare schemes, innovative experiments and excellent work in the districts. Earlier there was no such system. Secretary General Administration Vinod Kumar Suman threw light on the process of selection. Secretary SN Pandey, Additional Secretary Lalit Mohan Rayal, Kamendra Singh and other officers were present in the function.
Achievements of District Magistrates:
Vinay Shankar Pandey :- Smooth management and cleaning campaign of Kanwar Yatra for the first time after Kovid lockdown
Dhiraj Singh Garbyal :- Along with innovation, efforts regarding apple production and implementation of employment-oriented schemes in the field of tourism
Dr. Ashish Chauhan :- During posting in Pithoragarh, promoting Bedu products and connecting women self-help groups with it.
Mayur Dixit :- Better work in tourism, health sector during deployment in Uttarkashi. Successful management of the recently concluded Kedarnath Yatra
Himanshu Khurana :- Successful management of Badrinath Dham and Hemkund Sahib Yatra. Timely start of construction works as per master plan in Badrinath Dham