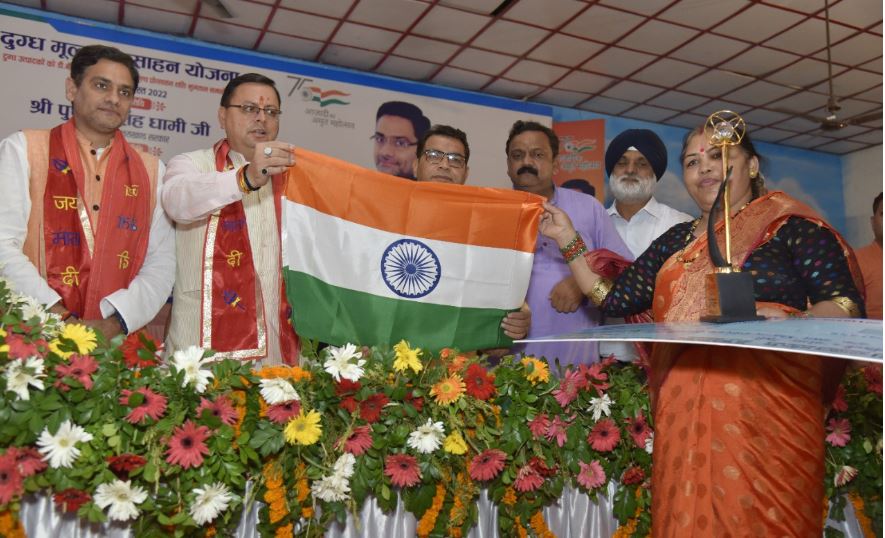 Chief Minister Pushkar Singh Dhami distributed an amount of 22 crores to milk producers through DBT in the milk price incentive payment program organized by Dairy Development Department at Jawahar Navodaya Vidyalaya Rudrapur. 26 best milk producers from 13 districts were awarded in the programme. In which, among the best milk producers of district Nainital, Ganga Devi was given first, Guru Upadesh Dev of district Udham Singh Nagar was given second and Harpal Kaur was given third prize.
On this occasion, the Chief Minister said that 25 percent grant is being given to milk producer members of milk producer cooperative societies in the state for setting up units of 03 and 05 milch animals. A target has been set to buy about 20 thousand milch animals, benefiting 5300 beneficiaries in the next five years, against which, till now, about 2100 milch animals have been purchased benefiting 600 beneficiaries. The economy of the milk producers is increasing by providing resources, as well as an increase of about 16 percent has been registered in the milk procurement of the state.
He said that in rural areas, small, marginal landless and weaker section farmers and milk producers by providing them the means of additional income and self-employment at the village level by providing them a reasonable price for the milk produced by them through milk cooperatives, dairy The development department is playing an important role. Through the department, technical investment facilities at the village level such as balanced animal feed, animal health services, fodder development and training and loans and grants for purchase of milch animals are being provided to the milk producers at the village level.
The Chief Minister said that the geographical conditions are different in the state, there is a lot of problem due to water in the hilly areas. He said that whatever irrigation schemes would be made, irrigation schemes would be prepared in coordination with the Agriculture Department. If you get water, you will get many things automatically.
He said that Farm Machinery Bank scheme has been started for those farmers who do not have agricultural equipment, in which up to 80 percent subsidy has been provided. Our government stands as a partner and ally with the cattle farmers and farmers with full sincerity and full force. The cooperative milk union and dairy plant within the state is the proof of the government and cooperative partner. Work is also being done to get rid of the worry of spoilage of milk by forming milk societies, collection centers. He said that high quality food is also being made available for the animals. 60 Pashupalak ambulances will also be started in the month of August, which will do door-to-door delivery. He said that an amount of Rs 64 crore has been approved for Lalkua Milk Committee and extension work will start soon, Rs 7 crore has been approved for Champawat Dairy.
Calling upon the youth, the Chief Minister said that work can be done on many possibilities through startups, those who can work on many possibilities of natural farming. Today youth in India are doing good work. We have 700 startups running here, he called upon the youth to take maximum advantage of the startup scheme. He said that all the farmers are getting the benefit of the ownership scheme. Along with this, we are working continuously to connect the poor, deprived, backward, especially the people of the village with employment. He said that it should be seen that people do not face any problem in getting loans from banks. Work is being done in the direction of fulfilling the resolve and dream of Prime Minister Narendra Modi for the convenience of all, raising the standard of living, doubling the income of farmers.
He said that the personnel should take the mantra of simplification, solution and disposal in their mindset. If there is a problem, don't stop, it has to be solved. There will also be simplification, there will be a solution and after the work is done on the paper, there will be a settlement. He said that the country is progressing rapidly under the leadership of Prime Minister Narendra Modi and India's prestige is increasing in the world. He said that schemes are actually being made for the needy.
The Chief Minister said that the former Prime Minister Mr. Rajiv Gandhi had said that 100 rupees are sent from Delhi, but the person to whom 100 rupees should have reached, 15 rupees reach to him i.e. 85 rupees used to end in the middle. Today, through DBT, Rs 22 crore has reached your account directly by pressing the button, there is no scope for commission of even a paisa, it has been made possible by the digital system. He said that today 40 percent of the digital transactions of the whole world are taking place in our country India. There is no area today in which we are not progressing. Through the PM Kisan Samman Nidhi, an amount of about 1390 crores has been transferred so far through DBT in the accounts of 9 lakh farmers. Our government is providing Rs.3 lakh to farmers and Rs.5 lakh to women self-help groups without loans. He said that we are promoting cluster based farming to promote organic farming. He said that the work of 3900 organic clusters is being started.