---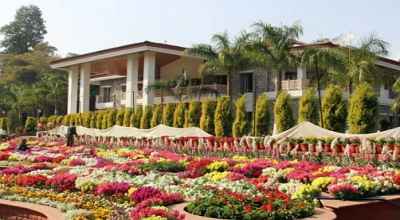 ---
If you want to see colorful flowers, come to the Raj Bhavan. This year, in the Basantotsav, held at Raj Bhavan from 13 to 14 March, a unique world of flowers will be decorated. There will be free entry to the floral exhibition for the school children as well as the common people. However, rules have to be followed to prevent corona infection. To come to the exhibition, it will be necessary to wear masks, follow sanitization and social distancing.
In a press conference held at Raj Bhavan on Thursday, Governor Baby Rani Maurya said that Basantotsav is being organized in Raj Bhavan since 2003. Last year the Spring Festival was not held due to the corona epidemic. This time, following the rules of Kovid, Basantotsava will be celebrated from 13 to 14 March. Now, Basantotsav has been recognized as a cultural and economic festival. Besides expressing happiness, flower production has become a medium of employment and self-employment. Herbs with flowers, organic farming needs to be encouraged.
The market has to be made available to increase the demand for organic products. This time, to promote horticulture in urban areas, information about vertical gardens will be given. At the same time, people will be informed about the flowers used in food products and their benefits. On this occasion Secretary Governor Brijesh Sant, Secretary Agriculture and Horticulture Harbans Chugh, Additional Secretary Jitendra Sonkar, Director Horticulture HS Baweja, and other officials were present.
Divyang and poor children will be the first visitors to the flower show
The Governor said that on March 12, Divyang and poor children have been invited to participate in the Basantotsav. Children will be the first visitors to the flower show. While the floral exhibition will be inaugurated on 13 March. Various competitions will be organized in the exhibition to encourage tenants to grow flowers. In this, cut flowers, potted plants management, loose flower management, potted plants, cactus and succulents, hanging pots, on-the-spot photography, flower rangoli, edible flowers besides school children painting competitions organized Will.
The exhibition of fruits will be held at Raj Bhavan in August-September
The Governor said that in order to recognize the fruits of Uttarakhand, an exhibition of fruits will be held at Raj Bhavan in August-September this year. For this, the officials of the Horticulture Department have been asked to prepare. Harshil's apple is very famous. Uttarakhand apple will reach farmers' income by reaching abroad. On the first day of the spring festival, on 13 March, there will be a cultural evening from 6 to 7 pm. It will feature hymns, songs of ancient Hariyali songs of Uttarakhand. On the second day, on March 14, Vrindavan flower holi, the Peacock dance will be the center of attraction. Apart from this, the army, ITBP, PSC band will also be the main attraction.
Admission will be free for common people
After the launch of Basantotsav on March 13, the common people will be allowed to enter the floral exhibition. On March 14, the floral exhibition will be open to the public from 9:30 AM to 6 PM. In the exhibition, food items prepared with flowers, one district, and one district product will be displayed in rose, gudahl, burras, strawberries, calendula, blossoms, etc. Various types of flowers including roses, marigold, Rajnigandha, gerbera, carnation, gladiolus, lilium, chrysanthemum, the orchid will be seen in the exhibition. Currently, flowers worth Rs 250 crore are traded in the state.