---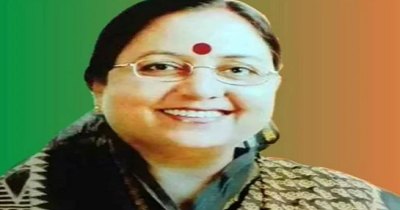 ---
Governor Babirani Maurya said in his address that the state has a growth rate of 4.2 percent at permanent prices, while the estimated per capita is Rs 2 lakh two thousand 895. According to the address, the state's gross domestic product is two lakh 53 thousand 666 rupees. He has given per capita income of the state based on the state net domestic product at prevailing prices.
Recruitment of 4346 vacant posts of Group C
4346 vacant posts will be recruited through Uttarakhand Subordinate Services Selection Commission. Its process has started. Applications have been sought for 1002 vacant posts under the Public Service Commission. 571 vacancies and 1431 LT posts of spokespersons will be filled in the state. 1020
Posts of nurses will also be filled.
Promote Sanskrit, Sanskrit channel will come
The Governor mentioned promoting Sanskrit in his address. He said that the government will start a Sanskrit language channel in the Haridwar campus of Sanskrit Academy. Sanskriti Gram Nirman Yojana will be launched in 12 districts. Four Dhamchar Veda centers will be established in the state. As a pilot project, an observatory will be set up at Shri Badrinath Ved Vedang Sanskrit College Joshimath, Chamoli.
Vacant posts of Secretariat Service Cadre will be filled
The commitment to fill the vacant posts of the Secretariat Service Cadre was also reflected in the budget address. The Governor also informed about preparing 714 employees under e-office system and starting e-offices in 57 departments to improve the functioning.
Automated driving test tracks at 11 locations
Road Safety Fund has been created to reduce road accidents. Automated driving test tracks will be made at 11 locations. Hill track has been constructed in Dehradun from 3.17 crores. Speed ​​control devices have been installed in 84 thousand commercial vehicles. An amount of 16.50 crore has been sanctioned for the construction of automated testing lanes at Haldwani and Haridwar. Eight hectares of land has been selected for the construction of Haridwar Driver Training Institute.
Major schemes mentioned in the budget address
In his address, the Governor has mentioned the major schemes launched by the State Government so far in his tenure.
Integrated financial management system Shaftshare launched
EFC and TAC cell created for the quality of work
EAP portal created for externally aided schemes
In 4500 villages drone survey land ownership letter will be ready
– Chief Minister Helpline Scheme 1905 launched
-32 services made available from e district and public service centers
-Smart Eco Clubs to be set up in secondary schools
Laboratory in Science for Science of Revival of Reverse Rivers
Launched My Travel App to make travel safe and easy
Doppler radar to be set up in Mukteshwar
-Jamrani on Gola River and Drinking Water Dam Scheme on Saung River
Sprinkler system for irrigating non-irrigated agricultural land even in hilly districts
422 clusters of 349 crores proposed under water scheme to every farm
– Target to get revenue of Rs 3461.37 crore under the government
Yoga and wellness therapy will be started in 60 Ayurvedic hospitals
Consumer helpline 1800-180-4188 started for redressal of grievances
-Bal Palash Yojana for freedom from malnutrition
-Soban Singh Jeena World
Established school
-Bhakt Darshan announced Higher Education Gaurav Award
-Initiated the process of setting up excellent schools
Conducted short-term employment training programs
-Manchal Aanchal Amrit Yojana started
Of
Created educational ratification program
– Designed courses in polytechnic institutions according to demand of industries
Placement Cells created in districts for employment